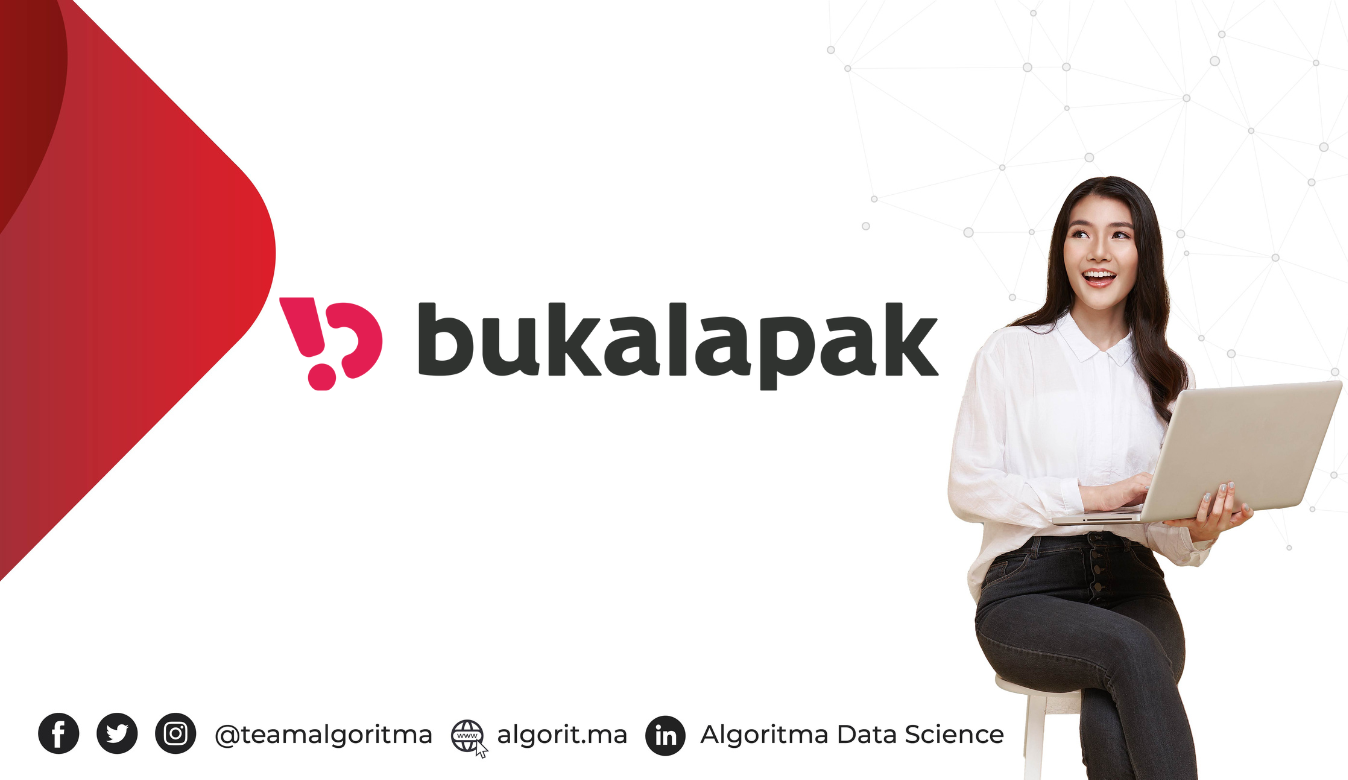 Data Scientist at Bukalapak
Bukalapak currently provides job opportunities for Data Scientist. If you are interested in applying for this position, please check this out!
Table of Contents
They started as a marketplace platform and grew into an All-Commerce platform, empowering users and communities as one company: "Buka" That is who they are, an All-Commerce company that keeps evolving and innovating.
Their mission is to make a fair economy accessible for all. They want to help Micro, Small, and Medium Enterprises (MSMEs) access capital, technology, and infrastructure that allows them to grow.
It has grown into an All-Commerce platform with more than 110 million users and 15 million MSMEs partners that utilize our media and technologies for commercial activities.
They continue innovating to stay relevant and willing to make big bets in areas we feel are important and create meaningful impacts on society.
They believe that within each of their trillions of transactions, there is hope and happiness that transcends millions of dreams and brings them closer to reality. Bukalapak aims to empower people to have better lives with a mission of creating an impact for All. Together we make an impact, continue to grow, and head toward sustainability.
Bukalapak currently provides job opportunities for a Data Scientist (Full time) with 4-7 years of experience based in Jakarta with a monthly salary of Rp 17,000,000.
Job Description
Identifying potential growth opportunities through data exploration & analysis
Collaboratively work with stakeholders to define problems and provide actionable insight based on a data-driven approach
Promoting self-service data-driven culture within the organization
Developing scalable data products (predictive model, prescriptive dashboard, etc.) that drive business/products growth
Designing controlled experiments to determine the incremental effect of business & products initiatives
Basic Qualifications
2+ years of professional experience in Data Science, Data Analytics, Business Analytics, or related field working with Data
Experience in crafting engaging and compelling data insights for business stakeholders and diverse audiences.
Bachelor's degree in a quantitative discipline such as Statistics, Engineering, Science, Economics, or Mathematics
Experience in SQL and scripting/statistical programming language(ex: python, R)
Preferred Qualifications
Master's degree or Ph.D. in a quantitative discipline such as Statistics, Engineering, Sciences, or equivalent practical experience.
Solid knowledge in root cause analysis, statistical, time-series, or predictive modeling skills.
Experience in managing multiple projects with competing priorities
Strong ability to distill and translate business cases into a clearly defined data analytics problem
Prior experience in a technology company
Experience in data pipeline orchestration with Airflow, Jenkins, or related technologies
If you are interested in applying for this position, please apply at https://careers.bukalapak.com/jobs/223962
---