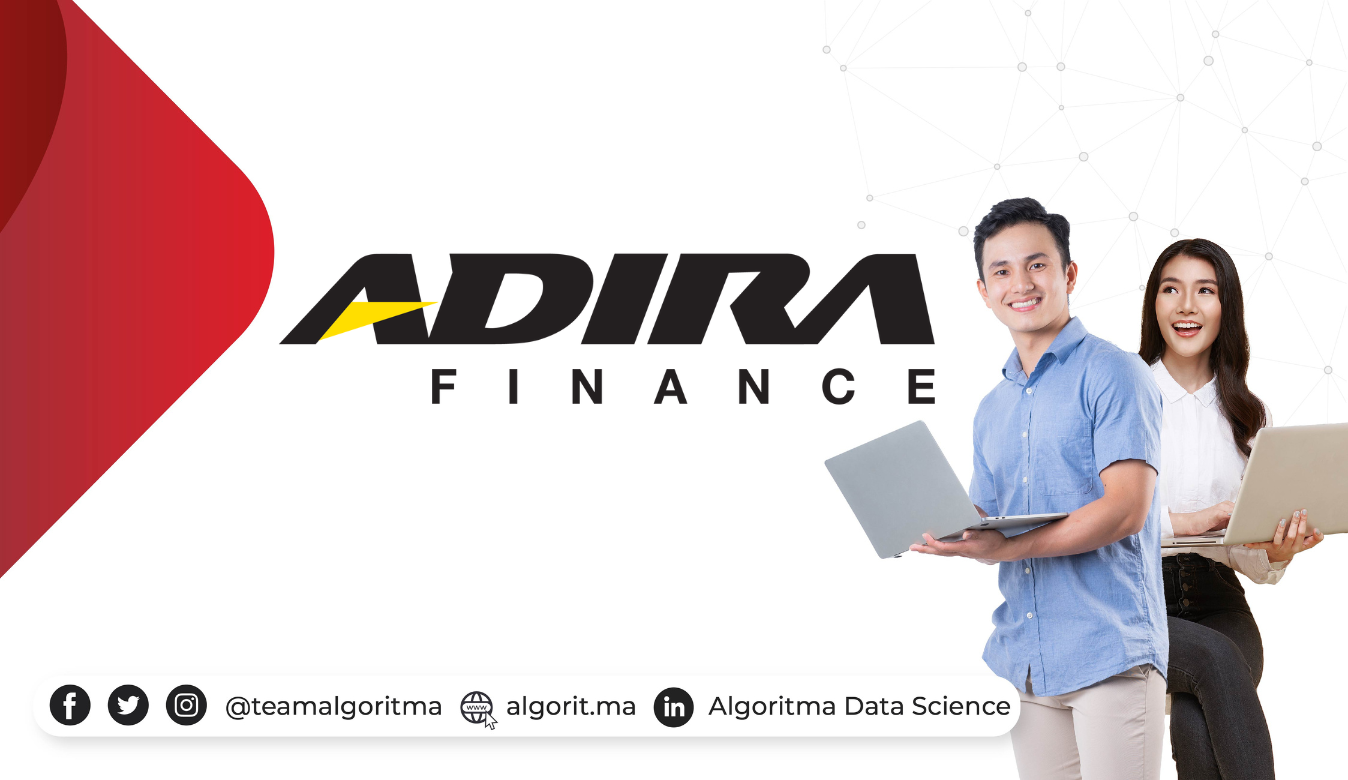 Digital Data Analytics Specialist (Supervisor) at Adira Finance
Adira Finance provides job opportunities for Digital Data Analytics Specialist (Supervisor). If you are interested in applying for this position, please check this out!
Table of Contents
PT Adira Dinamika Multi Finance Tbk, or Adira Finance, was established in 1990 and started its operation in 1991. Since the beginning, Adira Finance has committed to being Indonesia's best and foremost finance company. Adira Finance serves various financing vehicles, both new and used. Recognizing the potential, Adira Finance began to conduct an initial public offering for its shares in 2004, and Bank Danamon became the majority shareholder with 75% ownership. Through some corporate actions, Bank Danamon owns 92.07% of Adira Finance's shares. As a subsidiary of Bank Danamon, Adira Finance is part of the MUFG Group, one of the world's largest banks.
Adira Finance continuously contributes to the nation and the country of Indonesia. Through its brand identity and commitment, namely "Sahabat Setia Selamanya," Adira Finance is committed to imposing its mission which ends with increasing the welfare of Indonesian society. It is performed through the provision of various products and services according to the customers' life cycle, from multipurpose financing, household and electronic equipment (durables), automotive (motorcycles and cars), to umrah financing (Syariah).
By operating 440 business networks throughout Indonesia and employing nearly 20,000 employees to serve around 2 million active customers and business partners, Adira Finance proved as a leading multi-finance company in Indonesia that is registered and supervised by the Otoritas Jasa Keuangan (OJK)
Adira Finance currently provides job opportunities for Digital Data Analytics Specialist (Supervisor) with 1 to 4 years experience, based in Jakarta with a monthly salary of 6.000.000 - 9.000.000.
Job Responsibilities
Leading data analytics team and supervise activities of members in Digital Data Analytics.
Manage daily data analytics activities and giving solutions/advice for the problems.
Always giving the best solutions through data driven approach in terms of giving insights from data analytical, information visualization, and pro-actively answering the business issues.
Interpreting data and analyze information with statistical technique and provide report.
Build and implement database, data collecting system, data analytical, and other strategies to optimization statistics efficiency & quality.
Collect data from primer or secondary data source and keep the database/data system.
Identify, analyze, and interpret trend or pattern in set of complex data.
Cooperation with management and business team to prioritize business activies & identify information that needed.
Looking and definite new chance for increasing the process.
Collaboration with development team.
Job Requirements
Candidates must at least possess a bachelor's degree from mathematics, economy, computer science, information system, engineering, or statistics with min. GPA 3.00.
At least 2-3 years working experience(s) in data scientist/analytics/engineer.
Must have technical skills related with modeling data, database design, data mining, and segmentation technique.
Strong knowledge and experience with business intelligence tools (ex: Tableau, etc), database (ex: SQL, etc), programming (ex: XML, JavaScript, ETL Framework).
Strong knowledge in statistics and experience in using the statistic software to analyze the set of data (Ms. Excel, SPSS, Excel, etc).
Strong data analytical with ability in collect, organize, analyze, and operate information in big scale withal accurately and elaborate.
Good in query, reporting, and presenting the insight.
Deep knowledge in R, SQL dan Python & familiar with Scala, Java, or C++ will be added value.
If you are interested in applying for this position, please email your CV to atika.shahnaz@adira.co.id (Max file size 3 Mb).
---